The Art and Science of Developing Conscious and Effective Teams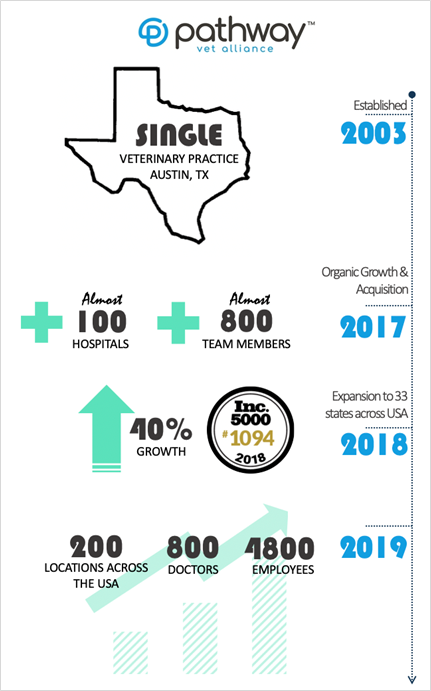 Pathway Vet Alliance is a leading national veterinary management group serving pets and their parents in the U.S. It was founded in 2003 and headquartered in Austin, Texas. Since then, Pathway has grown from a single veterinary practice in 2003 to 200 locations across the U.S., including 800 doctors and 4,800 employees in 2019. It's every Pathway team member's mission to be change agents for good. To be someone who supports others in doing what they love so, together, they can transform the veterinary industry and the world – for the better.
Pathway provides veterinary practices with operational support, tools, and resources and takes an active role in fuelling their success.
In August 2018, Pathway was ranked No. 1094 in Inc. Magazine's 37th annual Inc. 5,000, a ranking of the nation's fastest-growing private companies; and is on track to rise in this ranking in 2019. The Austin Business Journal (ABJ) selected Pathway as one of the fastest growing companies in Austin for the publication's annual Fast 50 list of companies earning $10 million or more.
Projections for future growth include Pathway tripling in size over the next two to three years.
For more on what Pathway does, watch this video and hear from them directly:
The challenges of rapid growth
Over time, it became evident that the difficulties Pathway faced as a result of its rapid growth would require a different leadership approach.
Consequently, in 2017, a new CEO, Dr. Stephen P. Hadley, DVM, MS, was appointed. Upon joining, the CEO expanded the leadership team with several other key leadership roles. Among his biggest challenges was reorganising the leadership structure while minimising the disruption those changes would create for the organisation as well as the new leadership team itself. It also meant ensuring that the right leaders were in place to manage the scope of ever-increasing responsibility and complexity.
Pathway, at its core, has a distinct people-focused culture rooted in collaboration and partnership as well as a commitment to innovation and advanced technologies. Therefore, it was a key priority to successfully integrate new leaders to ensure long-term cultural sustainability while driving future results.
With the rapid change came an inevitable, far-reaching impact across the organisation, and the leadership team decided to institute more formal change management processes. It included ways to build competencies that guide leaders on how to prepare, equip, and support individuals to adopt the change while continuing to drive organisational performance. Notably, moving to a more formal approach to change management was in itself a significant change to manage in this highly entrepreneurial environment.
Another challenge that this new leadership team had to manage was how to optimise the numerous opportunities to scale with the ability to quickly and efficiently build organisational capacity. Understandably, the resulting prioritising and reducing the long list of projects created tension in the planning and budgeting process. Pathway's 2019 top three operational challenges included:
Developing scalable processes and systems
Recruiting and developing talent
Improving hospital acquisition and integration processes
Introducing the Enneagram
Pathway's new CEO understood that the rapid growth would put immense strain on the leadership team and that the resulting dynamics could potentially negatively impact performance. As an avid Enneagram enthusiast, he decided to partner with Diane Ring, an Austin-based seasoned executive coach, Enneagram practitioner, and Integrative Enneagram Solutions global faculty member. The goal was simple: establish the Enneagram as a team and leadership development framework to accelerate collaboration and effectiveness..
Hadley planned to use the Enneagram to create awareness of each team member's unique style, enabling them to:
bring their best selves to work
be aware of each other's styles to support productive interactions
provide an effective way to exchange feedback
Diane's multi-faceted team solution, referred to as the "Pathway Growing Edge Leadership Journey", included the CEO's initial Enneagram-focused goals. Using the Enneagram framework to map to various development themes, she was able to integrate other leadership and team development methods with ease. This approach also supported the team's learning and development needs in support of their performance goals. The below is a summary of the approach:
The team completed their individual, iEQ9 Enneagram assessments, forming the basis of the integrated iEQ9 Team Report.
Each team member's growth aspirations were translated into an actionable personal development plan, supported by 1:1 coaching.
They also developed an integrated team goal and action plan based on Enneagram data and mapped to their business focus around results and people-focused leadership.
They also consciously used their team planning and off-site meetings as opportunities to practice real-time accountability as well as to give and receive feedback.
Herewith are some examples of how the Enneagram insights supported the team:
An exploration of the team's blend of Enneagram energies led to discussions around how to optimise the power of the team's dominant Type, Enneagram Eight - a highly results-driven group. The patterns outlined in the iEQ9 Team Report confirmed the challenges the team identified at the beginning of their journey. Discussions that followed focused on how to lead people authentically and to create favourable conditions for HOW the work gets done.
An exploration of the team's combined Centers of Expression led to an action plan aimed at reducing the overuse of the dominant Action Center while increasing the use of the Thinking and Feeling Centers. These ideas now form part of a formal team charter that forms the basis of team agreements.
The impact of the Enneagram on the team's effectiveness
"The Enneagram has been - and continues to be - a great tool for us to coalesce as a team. It has helped us to recognize how our different types and styles are actually really powerful when we remember to harness the different energies and permit each type to be heard/seen/felt."
Drew Dixon, Chief Financial Officer Pathway Vet Alliance
Two feedback mechanisms were put in place to measure the impact of the Enneagram on the team's effectiveness over time. The first was a team survey sent six months after integrating the Enneagram into the team culture, yielding favourable results.
100% of the leadership team members reported a higher self-awareness. Also, a clearer understanding of personal growth opportunities, strengths, habits, and patterns that enabled a shift toward a more productive way of engaging - and could back this up with a concrete example
75% higher effectiveness as a result of a better understanding of their team members' differing styles. Team members also said that they are now more aware of, and therefore more receptive to other members' preferences and that this ensured more effective collaboration
85% saw an increased tolerance and acceptance of each other's differences, supporting increased cooperation and teamwork
100% agreed there is potential to make even more progress
Some team member comments include: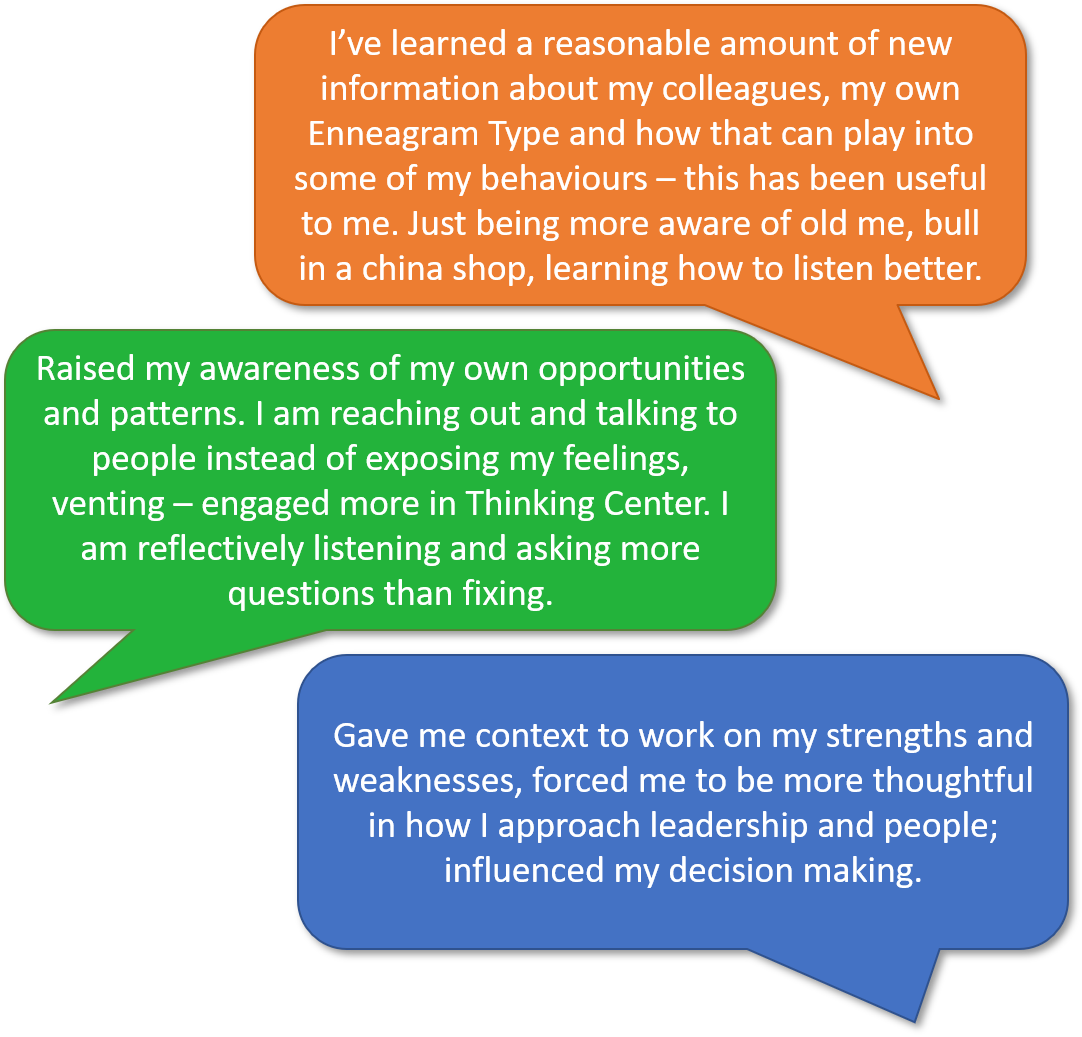 In April 2019, Diane led the team through an audit of their progress over the past year. The team was able to report many positive results from their focused efforts on team development – with both direct and indirect measures. There was a consensus that they could see concrete evidence of the maturation of people and processes in a relatively short timeframe.
Examples include:
Revenue growth of 52%
Support office employee retention is now averaging 90%
Reduction of projects from 120 to 9
An improved acquisition process, working on improving integration process
Numerous technology solutions are starting to realise the intended performance enhancements
Leadership planning meetings have scored as more worthwhile (8/10 in value and impact), and debate is encouraged
The team is regulating the tendency to overuse their dominant styles and has an increased understanding of how to work with differences
Where to from here?
The team is realistic and acknowledges that there are additional areas for improvement. Looking at the short-term priorities, as well as the aspirational growth and industry impact expectations in the next two to three years, Pathway CEO, Dr. Hadley, says: "We look forward to how the Enneagram can continue to help the leadership team develop an increased ability to cope with constant change and create ways to become even more resilient in facing the future."
----
In October 2019, at the International Enneagram Conference in Cape Town, South Africa, Diane Ring will be unpacking this case study during a highly participative and engaging presentation. While there is no one recipe for successful teamwork, Diane will offer some of the more granular details of the framework she has used with Pathways and share the insightful role that the Enneagram combined with practical consciousness practices has - and will continue to play - in working with this high achieving team. For more information and how to register for the event, please visit the conference website.
TAKE YOUR TEAMS FROM GOOD TO GREAT
Contact Us