"It's not how much we give but how much love we put into giving."
-Mother Teresa
A Whole New Level of Intimacy
There's nothing more exciting than realising that you've found a partner who truly 'gets' you. And with the Enneagram gift-giving guide, you can now be that special partner who always gets it right.
This guide is based on in-depth research on the 9 different Enneagram personality Types, so you'll need to know where you and your partner fit within the framework. Complete the Intelligent Enneagram Questionnaire (iEQ) to get your Type and the iEQ9 Report.
Integrative Enneagram solutions provides the most accurate personality Typing tool out there, meaning that we have a very good idea of what makes people passionate. One of the greatest gifts of the Enneagram is its ability to help us develop deep compassion and appreciation for ourselves and our partners. Knowing the Type of someone you love gives you an insight into their core needs and hopes, offering an opportunity to help them feel truly seen and understood.
"What we want on the surface doesn't always align to what we truly need on a deeper level."
Using each core Enneagram Type as a reference, you can avoid superficial gifts and rather give gifts that are based on some insight into the recipients' needs and, to some degree, what they may not know they need, but do! Part of mindful gift giving is about helping recipients move closer toward their best, healthiest version of themselves.
Let's start with what the different Enneagram Types might have on their wish lists
The Enneagram Type 1 in your life might be looking to perfect their home environments; this could influence their wants for gifts such as a vacuum cleaner/Roomba, D-I-Y book, or home store gift card. Ones may have strong ideas about the best version of everything, and gift cards allow them to choose.
The Enneagram Type 2 in your life may be a little out of touch with their own needs and would want gifts that actually benefit others; for example, charity-related gifts such as sponsoring a child through a World Vision subscription.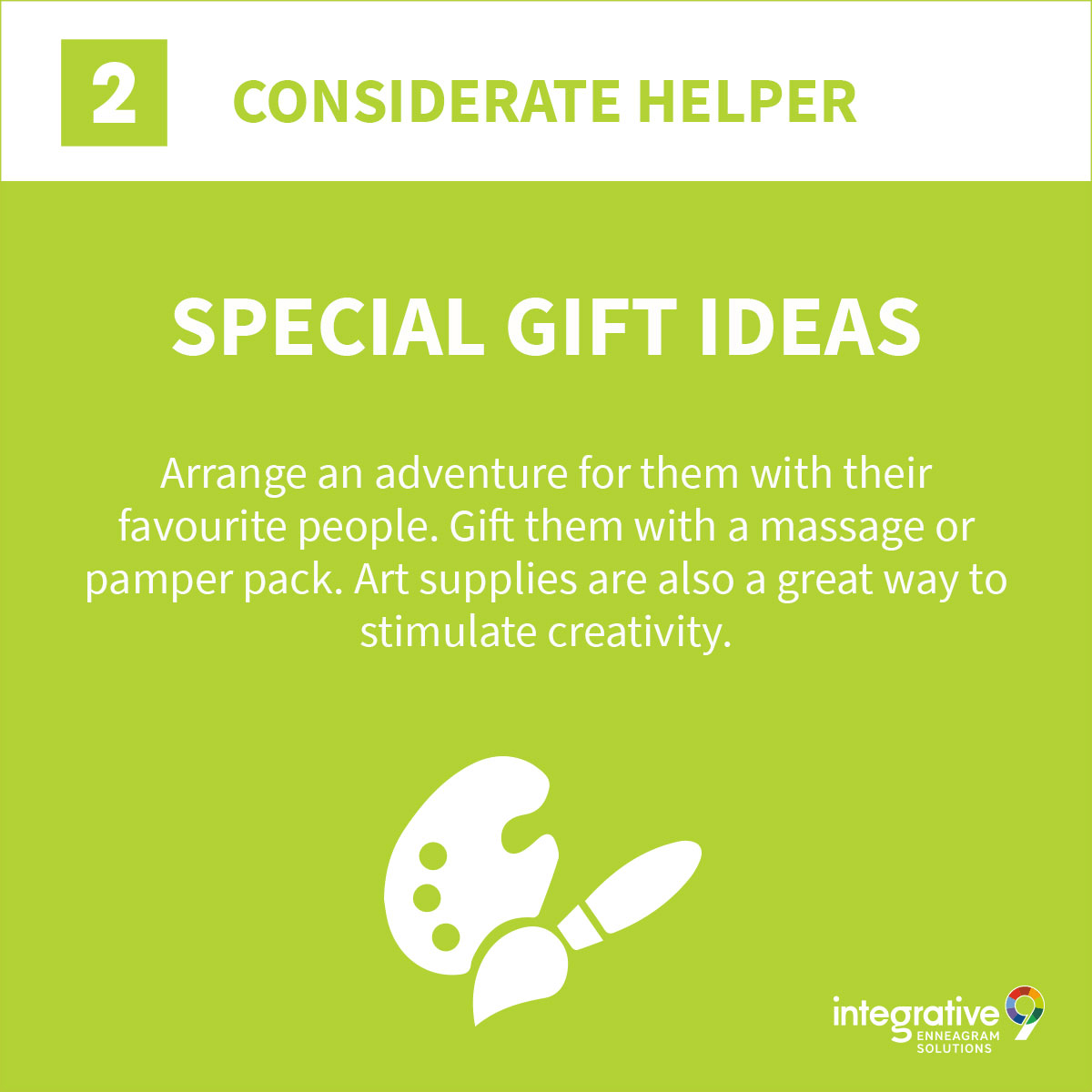 The Enneagram Type 3 in your life probably has a detailed list of the latest name brand items they are hoping to receive; including the most popular tech devices that support their productivity (Fitbit, Smartwatch). If those gifts are out of stock, they would happily settle for backstage passes to the most popular concert in town.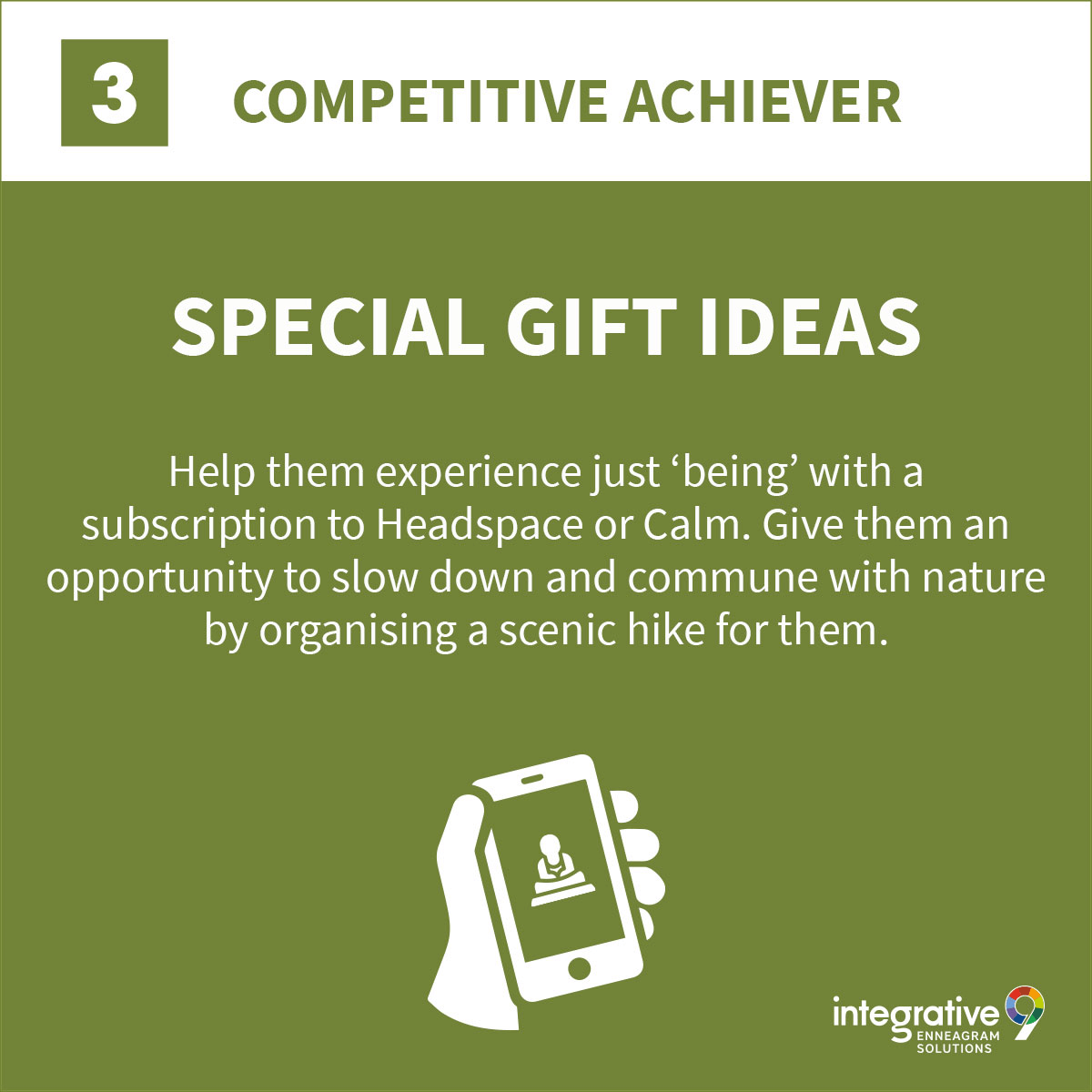 The Enneagram Type 4 in your life will likely have you working your way through Etsy looking for the perfect, one-of-a-kind, handmade item. Their wishes could include things like: limited edition music memorabilia or poetry, rare bottles of wine or a bracelet woven and blessed by Tibetan monks.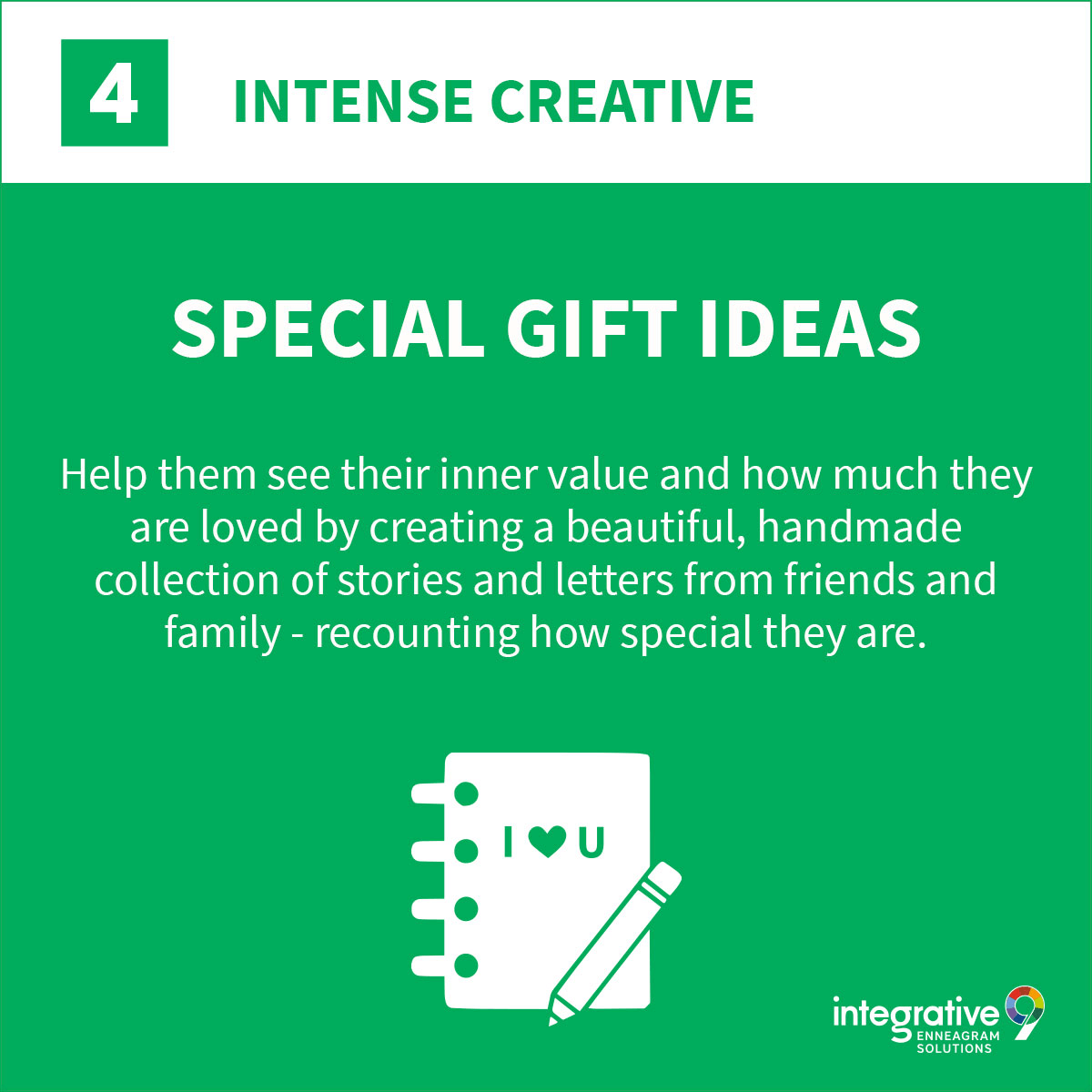 The Enneagram Type 5 in your life is likely looking for ways to accumulate more knowledge without cluttering their personal spaces; think of gifts such as a Kindle or subscription to Audible that allow them to access ideas in their preferred way.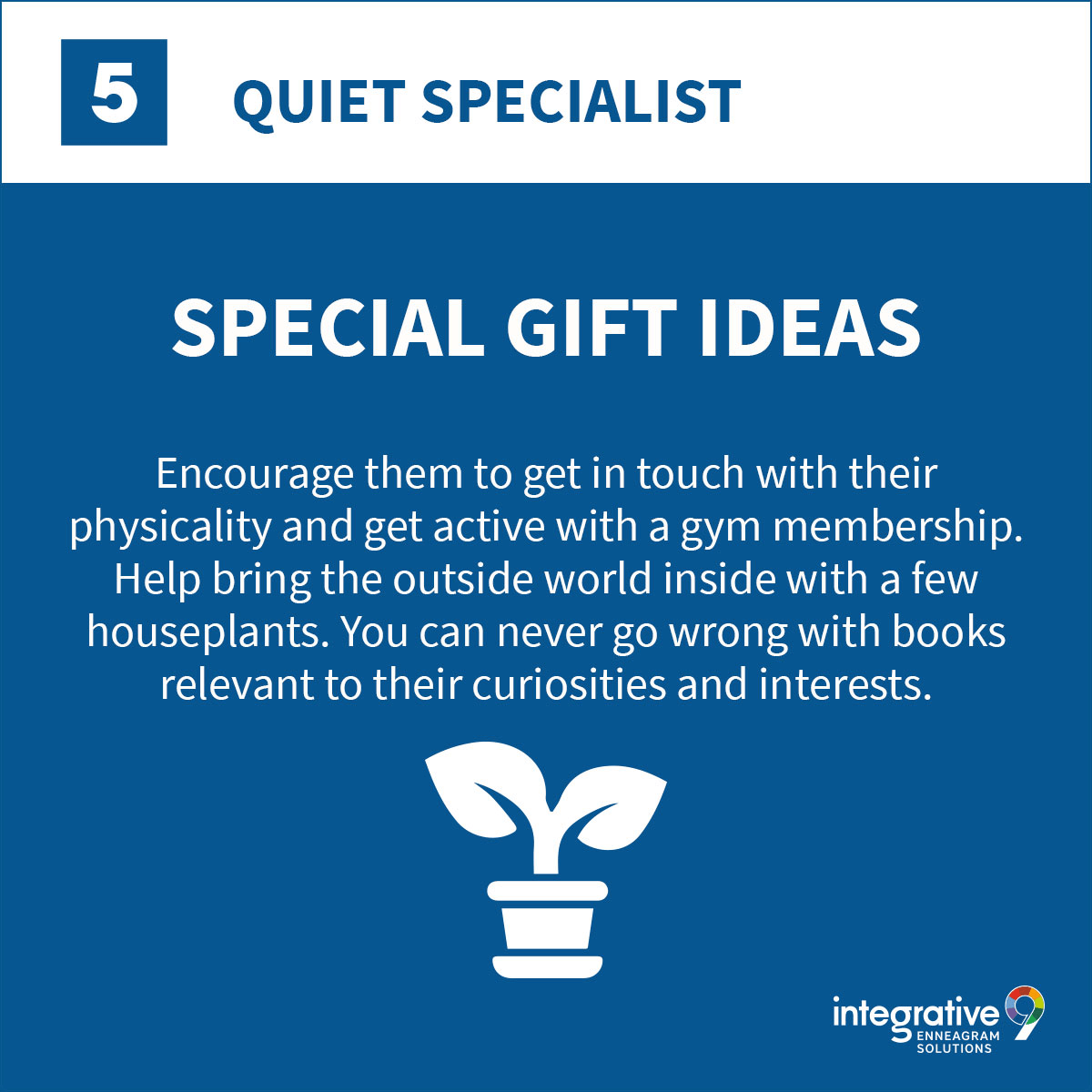 The Enneagram Type 6 in your life may hope for gifts that help them prepare for the unexpected; this could include a Ring Doorbell, road safety kit or items to contribute to their earthquake preparation kit. If those 6s are the counter-phobic type, they might hope for a ticket to adventure, to go sky-diving or bungee jumping.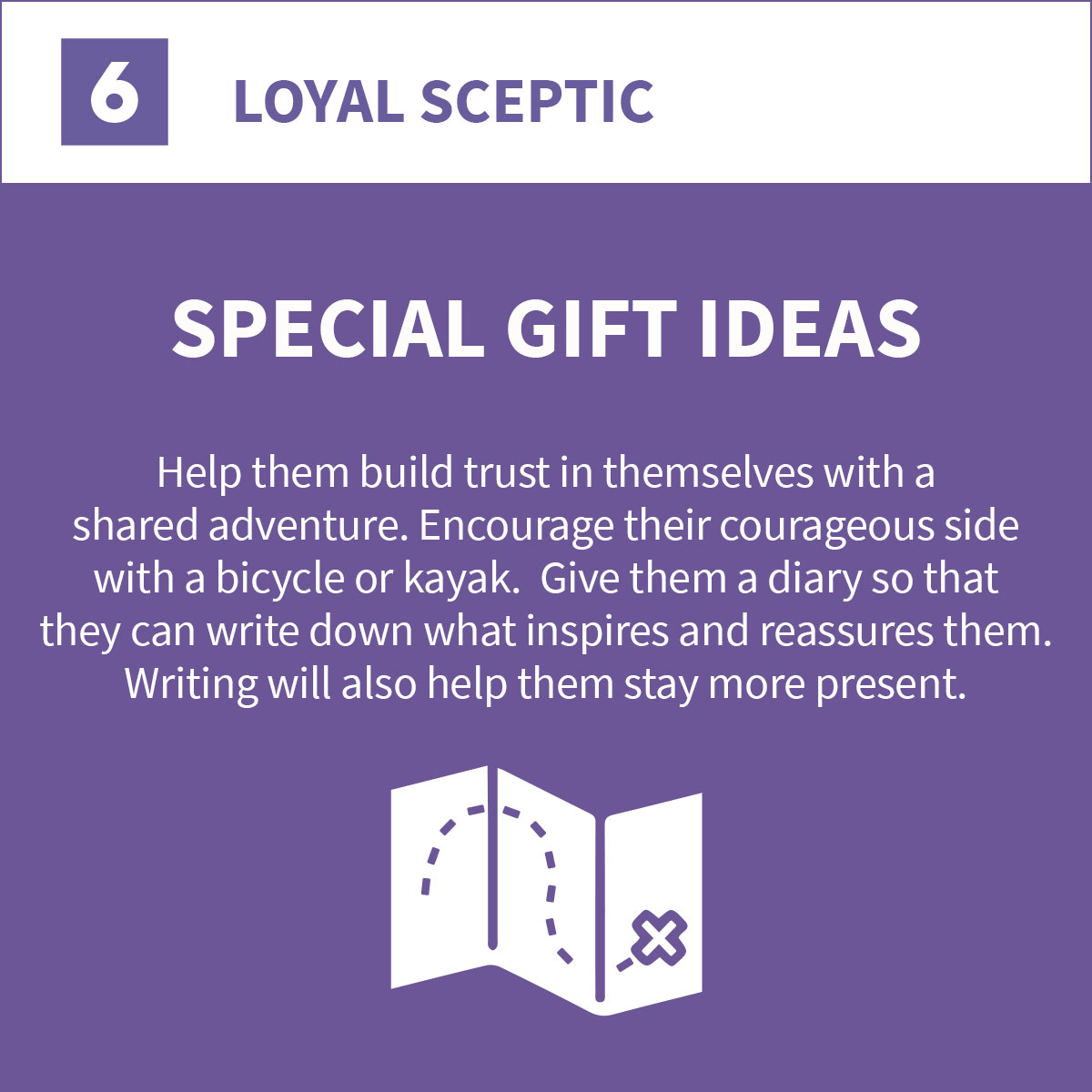 The Enneagram Type 7 in your life is likely to want a myriad of things that generate fun and are deliciously distracting. This could mean Around-the-World plane tickets, tasty and trendy treats, a wine tasting class or tickets to a sporting event in the future (the Monaco Grand Prix in 2019 for example).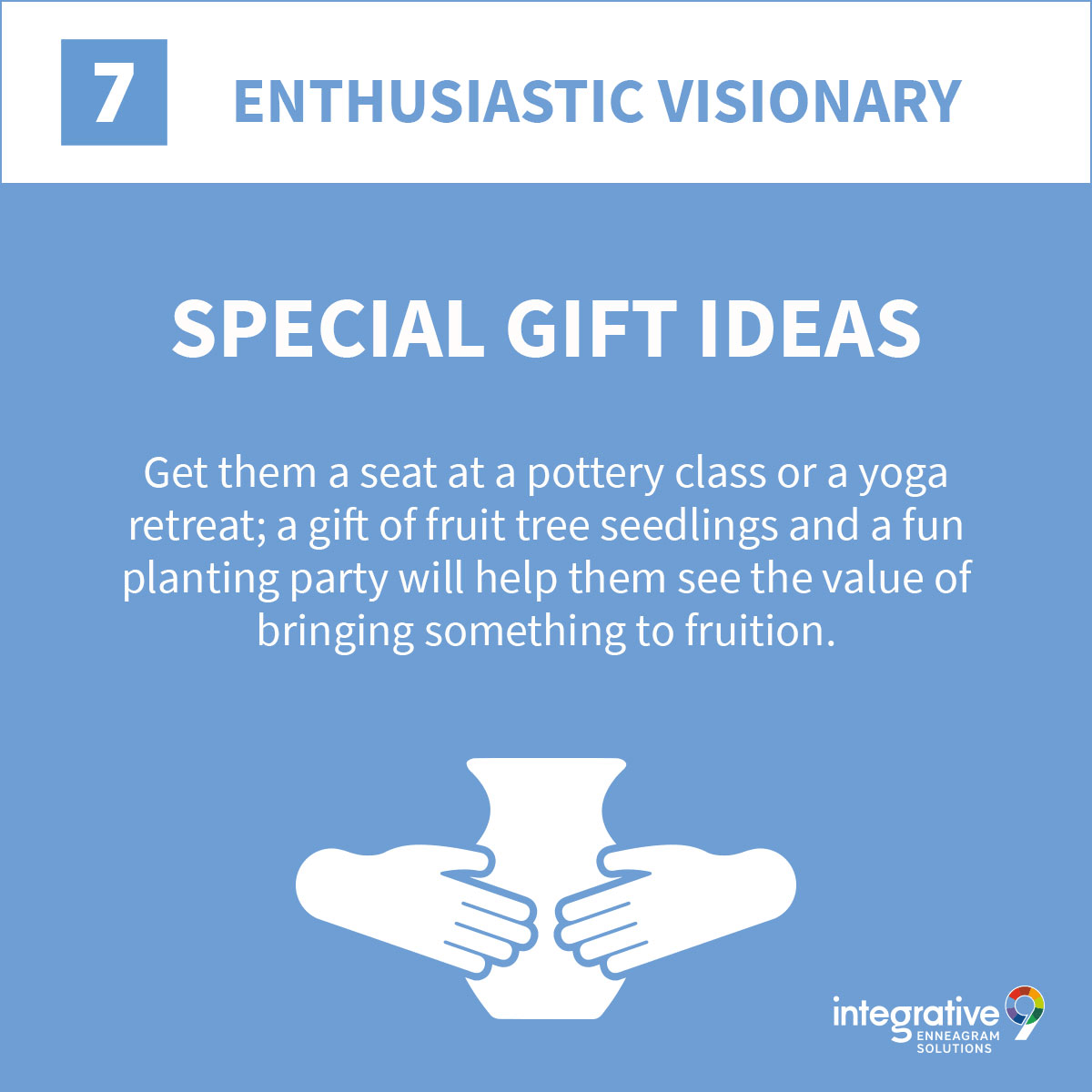 The Enneagram Type 8 in your life, who spends much of their time in high action gear, is likely to want gifts that mimic that same intensity; this could include boxing, martial arts classes, tickets to a rock concert or an Escape Room challenge.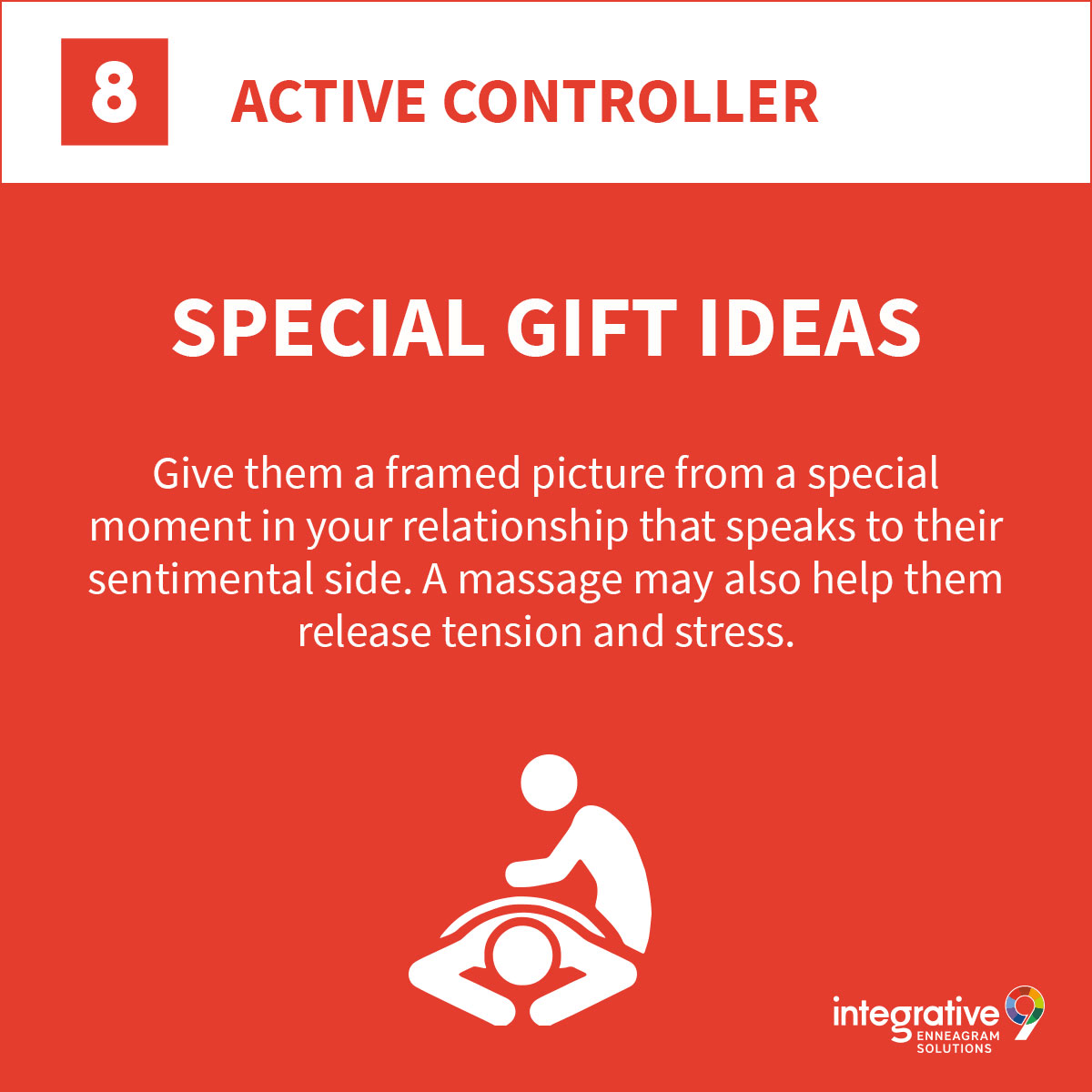 The Enneagram Type 9 in your life might hope for gifts to make their life more comfortable and pleasant, such as good food or wine. You might also look to the collections they have that represent their idiosyncratic passions and likes and add to that with a new, personally selected item.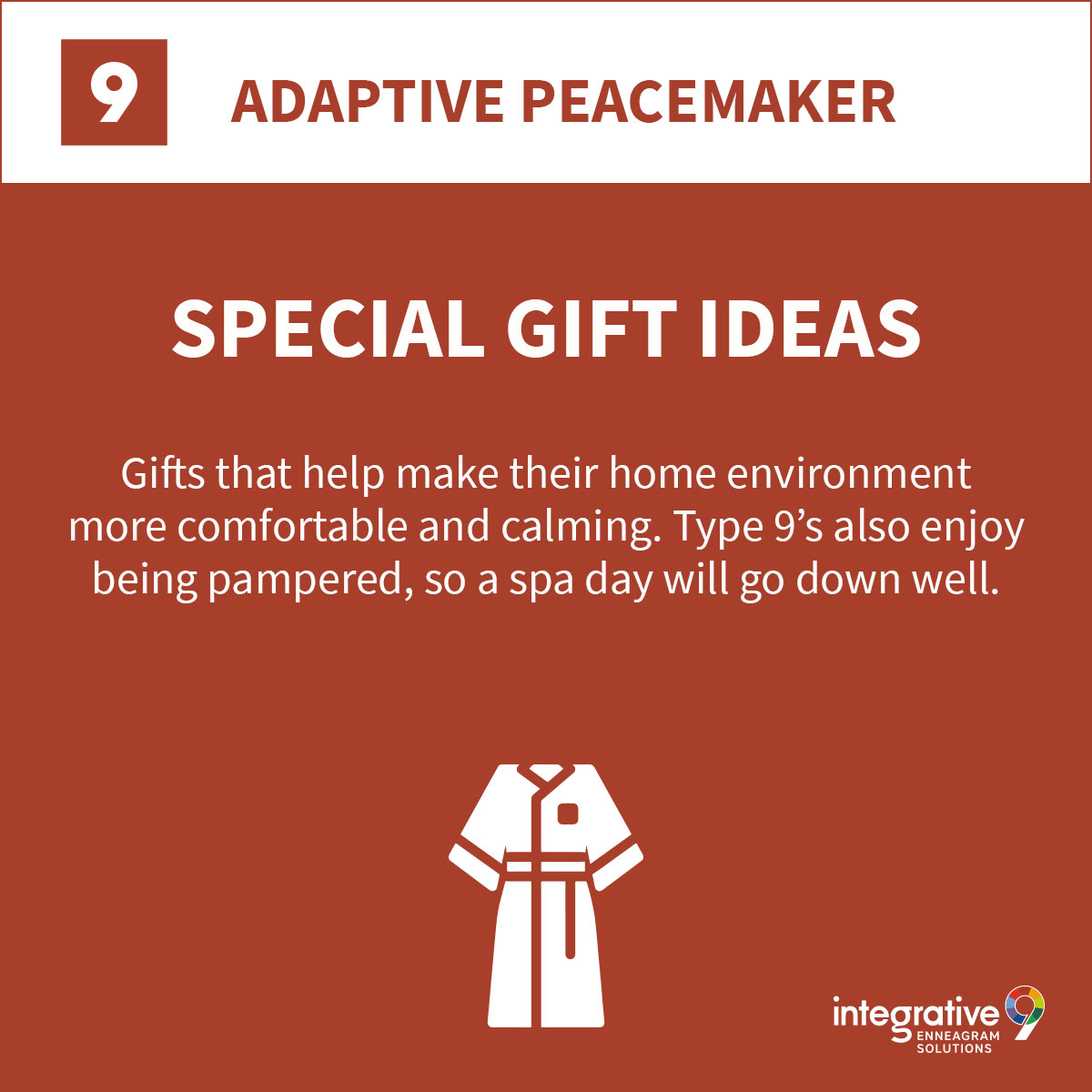 When giving gifts to those you know well and love, you have an opportunity to reflect back to those people what you see within them that is special, unique, and may be overlooked by many others. Aim to give gifts that intend to reflect and celebrate rather than improve others. However, be wary of falling into the trap of being self-righteous about knowing what someone else needs! Gift giving should bring joy to both the giver and the recipient and the Enneagram offers just one source of inspiration.
"Since you get more joy out of giving joy to others, you should put a good deal of thought into the happiness that you are able to give."
-Eleanor Roosevelt
Give the gift of self-awareness. Get your iEQ9 Enneagram Test